In Memory of My Dad
Bill Rabbit
December 3, 1946 – April 9, 2012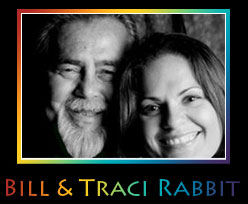 William "Bill" Rabbit, 65, of Pryor, Oklahoma, went to be with his Lord on Monday, April 9, 2012 in Tulsa, Oklahoma.
Bill was born in Casper, Wyoming to Swimmer Dave Rabbit and Doris M.E.H. (Dixon) Rabbit on December 3, 1946. He attended school in Casper, where he watched the color changing in the skies and the form of things in nature which influenced him early on. This was reflected by comments from his Kindergarten teacher who recognized his talent and his unyielding spirit: "Bill draws and paints unusually well, and is original. He is helpful in the care of the room, however too often he is not cooperative in group activities and is quarrelsome with a few of the children". Not only did his artistic potential begin to rise early on, but also his business savvy for Bill sold his first watercolor for $4, in the fourth grade. Other than a class in grade school that he had taken for two weeks, Bill had no formal training in art.
Later Bill moved to Collinsville, Oklahoma where he stayed until he voluntarily enlisted in the Army, serving our country in Vietnam. He served for 18 months in the 25th Infantry Division alongside film maker Oliver Stone. Bill said that Vietnam taught him life's moments are precious. During this time he met and married the love of his life Karen Elaine Jones from Tahlequah, Oklahoma on March 25, 1969. After being honorably discharged on September 9, 1969 he and Karen moved to Pryor, Oklahoma where he remained until his next journey.
His self taught expertise and use of the paintbrush has allowed Bill to be the recipient of numerous awards and recognitions. A few of them include the following: Cherokee National Treasure, Five Civilized Tribes Master Artist, I.A.C.A. Artist of the Year, "Night of the First Americans" John F. Kennedy Center Washington, D.C., Cherokee Honor Societies Medal of Honor Award, Top 10 Artists in America and along with his beloved daughter Traci Trail of the Painted Ponies. Bill was most proud of the Cherokee National Treasure award, and carried it close to his heart. Bill was always concerned with the salvation of anyone that he met, and was always willing to share his love of Christ and his own salvation. Questioning others to make sure that they knew the Great Creator and where they would spend eternity.
There are not enough beautiful words to illuminate the life of Bill Rabbit… but still said it best…
"Life has been kind to me. I'm thankful I've had the opportunity to see the things I've seen and do the things I've done.
But if I died tomorrow, I would feel so blessed and I hope God puts me in charge of painting rainbows."
Bill's most precious legacy that will carry on his great life is his grandchildren.
Bill is survived by his wife Karen Rabbit of Pryor, OK; daughter and son- in-law, Traci Rabbit and Dwight Stone of Locust Grove, OK, daughter and son- in-law, Kim and Wade Enyart of Colcord, OK; son, Stephen Wesley Proctor of Chouteau, OK, son and daughter- in-law, Billy and Miranda Rabbit of Pryor, OK; eight grandchildren. He is survived by one sister Dorene Rabbit of Claremore. He was preceded by his parents, Swimmer and Doris Rabbit; two brothers, James and John Lee Rabbit; one sister, Wineva Goins.
To say that Bill will be missed is an understatement. We can rest assured that he is singing his "Birdie" song to the angels, and we can also carry him in our hearts and promise that when we see a rainbow we will appreciate the new colors that are present and realize the master behind the brush.